Board Member News
Congratulations to NSMN National Executive Board Member JEFF PRICE. Jeff has been named Chief Commercial Officer of the PGA of America. The former President and Publisher of Sporting News, who also served as President of SI Digital and Head of Sponsorships for MasterCard, will officially begin on Aug. 1 and will be based at PGA headquarters in Palm Beach Gardens, Florida. In his new role, he will oversee the primary commercial areas of the organization, including media, sponsorship, merchandising, marketing/communications and international.
Connect now

Congratulations to North Texas Chapter Board member SCOTT SONJU and past NSMN speaker Chuck Greenberg on their new ownership of the Frisco RoughRiders.

Mandalay Baseball Properties LLC, owner of the Frisco RoughRiders, is pleased to announce they have entered into a definitive agreement with Chuck Greenberg and Scott Sonju for the sale of the Frisco RoughRiders franchise. The agreement is subject to customary closing conditions, including the approvals of the Texas League and Minor League Baseball and the review of the Office of the Commissioner of Major League Baseball.

Mandalay Baseball has been the principal owner and operator of the Frisco franchise since its inception in 2003. Mr. Greenberg, who also owns the Texas Rangers' Advanced-A affiliate Myrtle Beach Pelicans and the State College Spikes of the New York-Penn League, was the former CEO and managing partner of the Texas Rangers. He is the Chairman, CEO and Managing Partner of the newly formed Frisco RoughRiders LP, a partnership of local investors who are acquiring the RoughRiders. Mr. Sonju is the co-Managing Partner and will continue to serve as the RoughRiders' president, overseeing the day-to-day operations of the RoughRiders under Mr. Greenberg's leadership.
Connect now

Congratulations to longtime NYC Chapter Board member RICK SINGER who has left IBM to become President & CEO, The Tiger Woods Foundation. Most recently, Rick was the Vice President, Client Executive Marketing at IBM where he managed all of IBM's global sponsorships including those in golf and tennis.
Connect now

Congratulations! NSMN Boston Chapter Board member and 34 year sports marketing industry veteran JULIE KAHN has been named President, Regan Media - and Executive Vice President of the parent company: Regan Communications Group. In her new position, she handles new business growth through the integration of communications and media and she also serves as a special advisor to George Regan. Prior, Julie spent the past 13 years as Senior Vice President of Entercom New England, were she managed seven stations, including WEEI and WAAF-FM.
Connect now

Congratulations to longtime Bay Area Chapter Board member & 30 year industry veteran PAT GALLAGHER who will be in charge of marketing, communications and partnerships for Super Bowl L. READ ARTICLE
Connect now

Congratulations to NSMN National Executive Board member STEVE PHELPS who was promoted to Executive Vice President, Chief Marketing Offer, NASCAR.
Connect now

Congratulations to longtime NSMN San Francisco Chapter Board member KEITH BRUCE who has been named CEO, San Francisco Super Bowl L Host Committee. Prior, Keith spent 9 years at SportsMark and was most recently the CEO of the agency.
Connect now

---
News & UPCOMING Events
SAVE - THE - DATE

JUST ANNOUNCED:
SPONSOR SPOTLIGHT SERIES - PART 4 will feature:
LIBERTY MUTUAL


September 22, 2014, 6:00-8:00pm


Hosted by Boston Chapter @ Fenway Park
All members, All chapters are welcome to attend.
Reservations will open next week!
NSMN INTRODUCES A NEW LECTURE SERIES....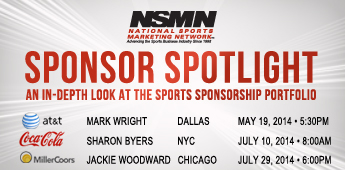 ONLINE RESERVATIONS ARE NOW OPEN!
Free, open to NSMN members only.
ALL members, ALL chapters are welcome!
Call 212-227-1300 with any questions.



---

FEATURING A ONE-ON-ONE INTERVIEW WITH:




JACKIE WOODWARD
VICE PRESIDENT,
MARKETING CONNECTIONS
MILLERCOORS

Interviewed by:


Jennifer Karpf, Founder/ Director
National Sports Marketing Network (NSMN)
Tuesday, July 29, 2014

6:00 - 8:30pm
OMNI Chicago Hotel
MEMBERS ONLY
With a diverse portfolio of more than 35 brand families, MillerCoors is one of the highest profile sports marketers in the country. Jackie Woodward, Vice President of Marketing Connections at MillerCoors, will outline how the brewer uses sports partnerships to strengthen a brand's connection to its consumers, drive retail activation and create great local relevance for its brands. Whether it's national alliances such as the NHL and NASCAR, team alliances across all the major sports, college sports partnerships or niche partnerships with organizations such as PRCA rodeo and U.S. Rugby, MillerCoors brands are involved with the sports that matter most to their consumers.
Free, open to NSMN members only.
ALL members, ALL chapters are welcome.



---


NSMN APPOINTS JOHN TORTORA,
CHIEF OPERATING OFFICER,
SHARKS SPORTS & ENTERTAINMENT
TO BAY AREA CHAPTER BOARD
As Chief Operating Officer, JOHN TORTORA enters his first season as COO of the Sharks Sports & Entertainment (SSE) after being appointed to his post by SSE's Board of Directors on June 13, 2013. In this role, he oversees all aspects of SSE's non-hockey operations with specific oversight of the finance, legal and human resources functions. Tortora reports to and serves as the organization's point person to SSE's Board of Directors. He joined SSE in June 2011 as EVP and General Counsel where he oversaw all legal matters pertaining to the company - including overseeing the legal aspects for all SSE properties and businesses, including the contractual relationships with corporate partners, suite holders, broadcasters, financial institutions, event and service contractors and major service providers. Prior to joining SSE, John spent 14 years with the National Hockey League, where he most recently was Vice President, Media. READ BIO


Connect now
---


NSMN APPOINTS ATUL KHOSLA,
CHIEF OPERATING OFFICER,
CHICAGO FIRE SOCCER CLUB
TO CHICAGO CHAPTER BOARD

As Chief Operating Officer, ATUL KHOSLA oversees all aspects of the MLS Chicago Fire's day-to-day business operations, including sales, marketing, communications, operations, finance and technology. He also leads the Club's short-term and long-term strategic initiatives. He joined the team in 2011 from Alli Sports, an action sports entertainment and multimedia company and a subsidiary of NBC Sports. There, he served as the Vice President of Commercial and Business Operations from 2007 to 2011, guiding the company from an initial start-up to a multi-million dollar arm of NBC Sports. READ BIO


Connect now
---



NSMN APPOINTS DAN HUNT, PRESIDENT, FC DALLAS & VICE PRESIDENT, HUNT SPORTS GROUP TO NORTH TEXAS CHAPTER BOARD


Son of sports pioneer Lamar Hunt, DAN HUNT is also in his eighth year as Vice President of Hunt Sports Group - the parent company of MLS's FC Dallas and the NFL's Kansas City Chiefs. He serves as a member of the MLS Board of Governors. His brother, FC Dallas Chairman, Clark Hunt is a past NSMN speaker. READ BIO


Connect now