ABOUT NSMN
ABOUT MEMBERSHIP
BECOME A MEMBER
CHAPTERS
CUSTOMER SERVICE
CONTACT US


Board Member News

KEITH BRUCE
Former President & CEO
San Francisco Super Bowl 50
Host Committee



PROFESSOR
STEPHEN A. GREYSER
Richard P. Chapman Professor (Marketing/ Communications), Emeritus
Harvard Business School
Two NSMN Board members were quoted this article about the Super Bowl: Super Bowl viewers don't want politics mixed with their hot wings and beer -- February 1, 2017

The San Antonio Express-News (Hearst Corp.) used NSMN's
pro-bono Media Matching service to identify and connect with sports business experts.
NSMN NATIONAL BOARD MEMBER
MIKE REISMAN BECOMES PRESIDENT OF MKTG -- VIA MERGER OF TEAM EPIC AND MKTG

MKTG IS A PATRON MEMBER

On January 1, 2017, sports and entertainment marketing agency Team Epic merged with experiential and retail marketing shop MKTG as part of the Dentsu Aegis Network global lifestyle marketing network (branded MKTG last year). MIKE REISMAN has become President where he is responsible for the sports and entertainment group within the agency.
Mike was a Principal and Founding Partner of Team Epic. Since 1981, he has been involved with the sponsorship marketing business, except for a two-year stint with IBM's personal computer division in the mid-1980s. Over that time period, Mike provided advice and counsel to such clients as FedEx, IBM, Shell Oil, MCI, Coca Cola, Kodak, Nabisco Brands, Reliant Energy, JP Morgan Chase, Charles Schwab, Samsung, et al. Read more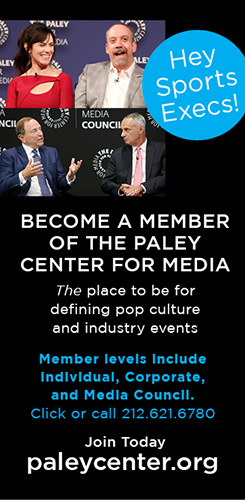 DO YOU NEED A CONFIDENTIAL CAREER CALL TO REVIEW YOUR RESUME, COVER LETTER, ELEVATOR PITCH, LINKEDIN PROFILE, NETWORKING GOALS -- OR
TO DISCUSS YOUR JOB SEARCH?
NSMN CAN HELP YOU. LET'S TALK.


News & UPCOMING Events


NSMN CELEBRATES 19 YEARS THIS MONTH!
THANK YOU TO OUR MEMBERS, SPEAKERS AND
BOARD MEMBERS FOR YOUR ENDLESS SUPPORT AND PARTICIPATION WITH THE NATIONAL ORGANIZATION.



Retail Price: $289/ year

NSMN Price: Only $224 / year
Special rate applies to new subscriptions and renewals.
OCTAGON'S JOHN SHEA APPOINTED TO NSMN NATIONAL EXECUTIVE BOARD & NYC CHAPTER BOARD

OCTAGON IS A PATRON PLUS MEMBER

JOHN SHEA, President of Octagon Marketing and Events, oversees Octagon's marketing practice across the Americas including sponsorship consulting, experiential marketing, content & creative and digital & social media offerings. The industry veteran leads a team of more than 400 working to help the agency's clients find the next right move across the sports landscape. In his 20+ years at Octagon, Shea has built the agency's business through a client-first approach and developed a broad range of sports marketing and consulting expertise. John brings a unique understanding of how to help brands connect with consumers through sports and entertainment and has collaborated with all of the major sports leagues and properties in the Americas. READ MORE

CSE's TIM MCGHEE APPOINTED TO
NSMN NATIONAL EXECUTIVE BOARD

ACTIVE NYC CHAPTER BOARD MEMBER ADDS ADDITIONAL BOARD ROLE

CSE IS A PATRON MEMBER

TIM MCGHEE is a senior vice president at CSE, an Atlanta based integrated marketing agency. He is responsible for running CSE's New York office and increasing the agency's presence in the northeast. In addition, he will be involved in formulating the agency's strategy, business development efforts and crafting and implementing CSE's marketing plans. Prior to joining CSE, Tim was the principal of MSP Sports, a strategic consultancy based in Summit, NJ. MSP Sports specializes in maximizing sponsorship value for both brands and properties. His clients include Thomson Reuters, Willis Insurance the Miami Heat, USA Luge, New York Red Bulls, the Naismith Awards, US Rowing, USA Diving, Philadelphia 76ers, Professional Bull Riders, Merck & Co. and Soccer United Marketing, among others. Between 2010 and 2012, Tim worked for IMG Consulting as Senior Vice President/Managing Director. In that role, McGhee oversaw all of the agency's client engagements in North America. IMG's client roster included brand marketers such as Marriott Hotels, Coca Cola, Kia Motors, Kraft Foods, USAA Insurance and Visa, among others. READ MORE

MICHELLE PALMER, THE MARKETING ARM'S PRESIDENT, SPORTS & EXPERIENTIAL APPOINTED TO NORTH TEXAS CHAPTER BOARD

THE MARKETING ARM IS A PATRON MEMBER

MICHELLE PALMER is the President, Sports and Experiential for The Marketing Arm (TMA), where she leads TMA's sports and experiential practices. In September 2016, she was named by Sports Business Journal as a Game Changer, an industry award recognizing women making an impact in the sports industry.
READ MORE

The Marketing Arm's CEO DAN BELMONT continues to serve on NSMN's National Executive Board.